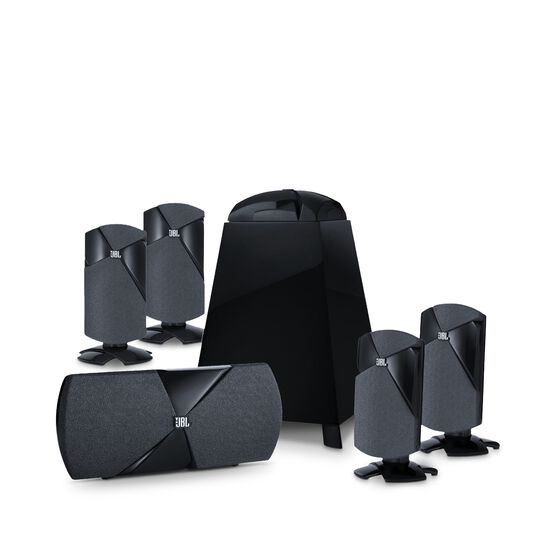 Cinema 300
Details
https://www.jbl.com.tw/home-audio/CINEMA+300_.html?dwvar_CINEMA%20300___color=Black-India-Current
---
5.1-channel home cinema system with active 150-watt subwoofer
Complete, optimized 5.1-channel system
The JBL Cinema 300 home theater speaker system delivers the full impact of a movie by immersing you in the action with four surround-sound satellite speakers, a dedicated center-channel speaker and an omnidirectional, powered subwoofer. All of these components are engineered to work together and make your experience sound as epic as the action on the screen.
150-watt powered subwoofer
Realistic, high-impact bass is the not-so-secret key to movie excitement. The JBL Cinema 300's subwoofer features a fast-moving, 8-inch (200-millimeter) woofer and 150 watts of amplification for clean, lifelike bass. Subwoofer phase, level and bass-boost controls permit easy tuning of bass performance to suit room acoustics and your personal preferences, and line-level and LFE (low-frequency effects) subwoofer inputs ensure noise-free connections to virtually any audio/video receiver.
Voice-matched satellite and center speakers
The Cinema 300's four identical satellite speakers are voice-matched to the center speaker to ensure that sound remains consistent as it moves from speaker to speaker. This technology enables the Cinema 300 to create 360-degree surround-sound environments that create the experience of being in the settings portrayed on the screen.
Dual-midrange center speaker
Dual-midrange drivers used within the Cinema 300's most prominent speaker let you crank up the volume without distortion. Playback levels can get much louder without losing center-channel distinction or allowing any disruptive bleeding of the sound mix.
Down-firing bass driver
A down-firing bass driver prevents a subwoofer's sound output from interacting with nearby walls, causing unwanted reflections and muddying the sound. Instead, the Cinema 300's subwoofer interacts principally with your listening room's floor, delivering a world of bass that delights the senses.
Dynamic JBL Weave design
The Cinema 300's speakers feature our exclusive Weave design, which makes them look less like speakers and more like a part of your room's décor. Dynamic in appearance, this sculpted, high-gloss design stands out while simultaneously blending in with your own sense of style.
Don't let the size fool you.
Astonishingly small, the JBL® Cinema 300 home theater speaker system provides a feel-it-in-your-chest movie theater experience. The combination of a dual-midrange center-channel speaker, four matching satellite speakers and a 150-watt subwoofer creates a powerful home theater experience from a deceptively small package. The JBL engineering that creates the speaker systems used in the world's most amazing movie theaters now delivers the same quality of surround sound for a compact home system. From dialogue that is crisp and accurate replayed from voice-matched center and satellite speakers to floor-rumbling bass via a 150-watt subwoofer, the JBL Cinema 300 system makes your living room feel more like a top-of-the-line movie house.